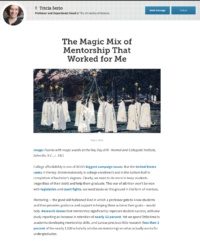 A great first person report on the value of mentoring to students, post-docs, and colleagues is described in this recent article by Dr. Tricia Serio at the University of Arizona.
As she points out about her mentors in college, graduate school, post-doc years, and as a junior faculty member: "they encouraged me to compete only with myself, they gave me space, they allowed me to voice my opinions safely, they pushed me to do more, they didn't just mentor students."
This is our job — mentoring learners at all levels, including our colleagues.
Read The Magic Mix of Mentorship That Worked for Me. 
v X RP