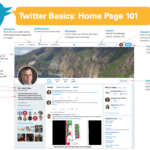 Need help understanding the words commonly used on Twitter? Confused about what you're seeing on your home page and how to navigate it?
Then check out this Twitter Basics guide, which covers need-to-know Twitter lingo and breaks down what each icon and section of your home page mean.
And if you're just starting out, make sure to check out the Twitter Quick Start Guide for step-by-step info to get off to a fast start.
---
About the Author
Megan Blusys is the Communications and Media Coordinator for Academic Affairs at the University of Nebraska Medical Center. She is a marketing and communications expert with a strong background in branding, writing and graphic design.
   megan.blusys@unmc.edu  |   @meganblusys
---