Zoom has become an invaluable tool in online teaching. However, distance learning presents its fair share of additional challenges. The most common challenge faced by educators is maintaining active learner engagement. A lack of face-to-face accountability makes it easy for students to lose motivation and feel an increased sense of isolation. Follow these simple tips to boost engagement and increase satisfaction in your online class: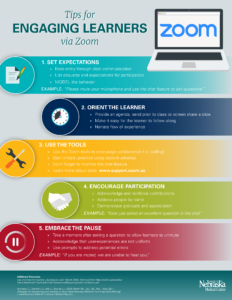 Set Expectations
Ease entry through clear communication
List etiquette and expectations for participation
MODEL the behavior
Example: Please mute microphone and use chat feature for questions

Orient the Learner
Provide an agenda, give the learner an idea of how the class will progress
Make it easy for the learner to follow along
Narrate flow of experience
Send agenda prior or screen share a slide at the beginning

Use the Tools
Use the Zoom tools to encourage collaboration (i.e. polling)
Start simple; practice using tools in advance
Don't forget to monitor the chat feature
Learn more about tools: www.support.zoom.us

Encourage Participation
Acknowledge and reinforce contributions
Address people by name
Demonstrate gratitude and appreciation
Example: "Kate just asked an excellent question in the chat."
"John, thank you for bringing that up."

Embrace the Pause
Take a moment after asking a question to allow learners to unmute
Acknowledge that user-experiences are not uniform
Use prompts to address potential errors
Example: "If you are muted, we are unable to hear you."


Have Fun!
Add humor
Give grace
Remember: We're all in this together!