The start of the academic year is the perfect time to re-evaluate and re-scope our career goals. Work on one of the following tasks every month throughout the school year, or use them as a guide to engage with a peer mentoring group to push everyone further, faster.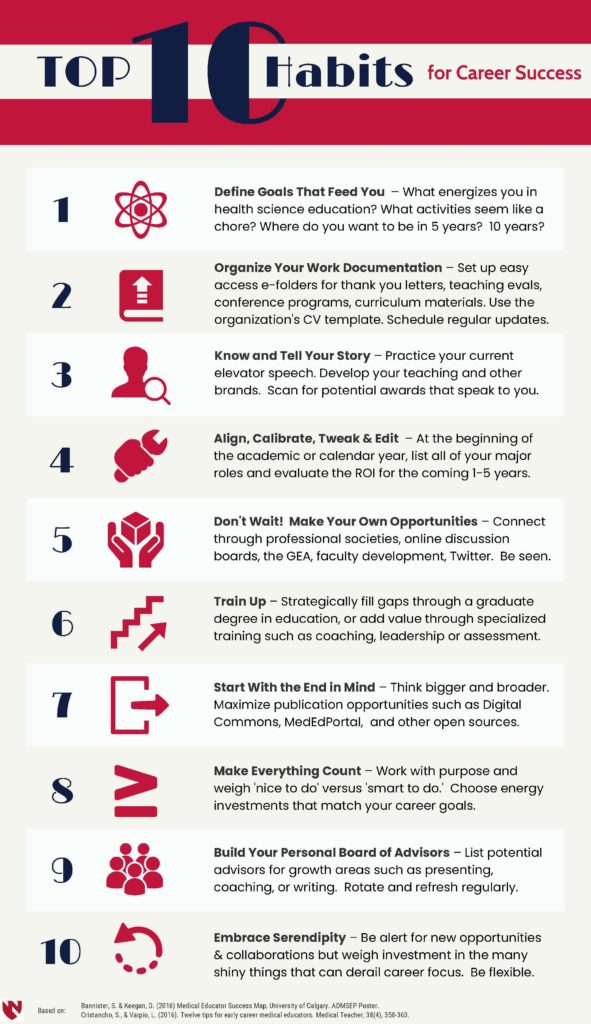 Define Goals That Feed You:

What energizes you in health professions education? What activities seem like a chore? Where do you want to be in 5 years? 10 years?

Organize Your Work Documentation:

Set up easy access e-folders for thank you letters, teaching evaluations, conference programs, article reviews, publications, and curriculum materials. Use your organization's curriculum vitae template. Schedule time routinely to make updates.
Know and Tell Your Story: Practice your current elevator pitch. Develop your teaching and other brands. Scan for potential awards for which you may be qualified. Provide links to resources (pre-recorded modules, promotion and tenure goals worksheets, research plan templates, diversity/inclusion/equity best practices, wellness program information, and different department websites and contacts).

Align, Calibrate, Tweak, and Edit

: At the beginning of the academic or calendar year, list all of your major roles and evaluate the return on investment for the coming 1-5 years.

Don't Wait! Make Your Own Opportunities:

Connect through professional societies, online discussion boards, the AAMC group on educational affairs or an appropriate GEA group, faculty development, and Twitter. Be seen.

Train Up:

Strategically fill gaps through a graduate degree in education or add value through specialized training such as coaching, leadership, or assessment.

Start With the End in Mind:

Think bigger and broader. Maximize publication opportunities such as Digital Commons, MedEdPortal, and other open sources.

Make Everything Count:

Work with purpose and weigh 'nice to do' versus 'smart to do.' Choose energy investments that match your career goals.

Build Your Personal Board of Advisors:

List potential advisors for growth areas such as presenting, coaching, or writing. Rotate and refresh regularly.

Embrace Serendipity:

Be alert for new opportunities and collaborations but weigh investment in the many shiny things that can derail career focus. Be flexible.
What are you doing to re-evaluate and re-scope your career goals this fall? Download the infographic version, comment on the Harvard Macy Community Blog or share your experiences on Twitter using #MedEdPearls!
References:
#MedEdPearls are developed monthly by the Central Group on Educational Affairs.
---
About the Author
Linda M. Love, EdD is a health professions educator and organizational developer. She is the Director of Faculty Development, an Interprofessional Academy of Educators Scholar, and Assistant Professor in the Department of Psychiatry at the University of Nebraska Medical Center. Linda's areas of professional interest include career development and professional identity development of medical educators, developing new generations of health professions educational leaders, and teaching/learning in the Information Age.
lmlove@unmc.edu
|
@2LindaMLove